The attractive town of Fussen in the southern German state of Bavaria, makes a popular day trip destination from Munich. With so much to see and do around Fussen, it is definitely worth extending your stay and booking a hotel for a night or more.
There is a wide selection of hotels in Fussen so how do you choose where to stay in Fussen?
Whether you are looking for a 4-star property, a 3-star property or even an apartment-hotel, Fussen has plenty to choose from. Would you like to stay in a hotel in Fussen Old Town or prefer to be located beside one of the nearby lakes?
Read on to discover the best hotels in Fussen to suit your needs.
[This post may contain compensated links. Please see my disclosure policy for more information.]
Summary of Hotels in Fussen
10 Best Hotels in Fussen
Location: Old Town
Only 100 metres from the train station, the convenient location of this hotel in Fussen, Germany is unbeatable. The four star Schlosskrone boasts a spa, gym, parking, restaurant, bar and wine lounge, and has an impressive range of room types to suit all guests.
Rooms:
Hotel Schlosskrone offers a range of spacious, air-conditioned en-suite accommodation, from simple singles to large family rooms. All rooms come equipped with cable TV, and feature colourful decor. Some are traditionally Bavarian in style, while others are more modern.
Amenities:
This four star Fussen hotel has a great spa with sauna, steam room, hot tubs and tropical showers. A range of beauty, wellbeing and massage treatments can be booked here.
The hotel also has limited underground parking, plus the Himmelsstube restaurant, a bar and wine lounge offering drinks and cocktails.
A buffet breakfast is available daily and staff serve homemade cakes in the hotel café.
> Click here to check prices for Hotel Schlosskrone
You can read a review from our stay at Hotel Schlosskrone > here.
---
Location: Centre
With beautiful, comfortable rooms and secure parking available, Hotel Sonne in Fussen makes the ideal base for guests staying in this attractive Bavarian town. A generous breakfast is served daily and the hotel also offers a spa and wellness centre, bar and restaurant. Large family rooms are also available.
Rooms:
Every room at Hotel Sonne is individually styled, and typical features may include parquet flooring, patterned wallpaper, freestanding bathtubs and light, bright decor. There are standard singles and doubles plus medium and large family rooms with a sofa bed or two double beds.
Amenities:
Hotel Sonne has a spacious spa, complete with large relaxation area featuring plump, comfortable sofas, pretty tiled flooring and patterned rugs and soft furnishings. A range of wellness rituals and beauty treatments can be booked here.
The hotel also features 'Riwa', its own contemporary eatery serving various sweet confections as well as breakfast, lunch, dinner, drinks and cocktails.
> Click here to check prices for Hotel Sonne
---
Location: Centre
Hotel Hirsch is a welcoming, family-run art nouveau style property in the heart of Fussen. This four star hotel combines traditional Bavarian and modern styles to pleasing effect, while its amenities include a restaurant, bar and beer garden. The hotel also offers free parking for guests.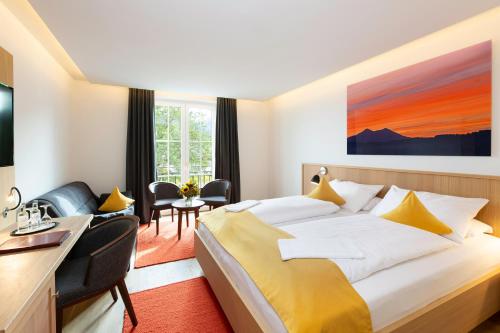 Rooms:
Rooms feature a stylish finish and come equipped with en-suite bathroom and a flatscreen TV. Although accommodation tends to be contemporary in style, pops of colour and pieces of original Bavarian furniture add interest.
The rooms at Hotel Hirsch range from singles and doubles to twins, triples and quadruples.
Amenities:
Hotel Hirsch offers complimentary WiFi throughout the property, and has a selection of charming cosy dining rooms. Local and Bavarian cuisines are a speciality. Before or after dinner, guests can relax in the outdoor beer garden.
Fussen's main train station is just three minutes away on foot, and there are several car parking spaces to the front of the hotel.
> Click here to check prices for Hotel Hirsch
---
Location: 300 metres from central Fussen
The Best Western in Fussen is a four star superior property offering a range of pet-friendly, non-smoking accommodation. Guests staying here can sample local specialities in the restaurant and relax with a drink at the bar. There is also an outdoor terrace, and paid parking is available.
Rooms:
All accommodation at this Fussen hotel comes with tea and coffee making facilities, a flatscreen TV and private bathroom with complimentary toiletries and a hairdryer. Some of the rooms also benefit from a dedicated, furnished seating area.
Amenities:
This is one of the best hotels in Fussen, Germany for active types, as the well-equipped fitness centre is open between 7am and 10pm daily. There is also a steam room, as well as an on-site restaurant and a cocktail lounge.
Guests can walk to the heart of Fussen in around five minutes, and can book spaces in the parking garage on payment of an additional charge.
> Click here to check prices for Best Western Plus Hotel Fussen
---
Location: On the edge of central Fussen
If you're seeking hotels in Fussen, Bavaria with plenty of amenities on site, the four star Luitpoldpark Hotel could be the ideal choice. It is located on the edge of central Fussen, close to the Old Town and under 100 metres from the train station. The Luitpoldpark Hotel has a spa with various saunas and three restaurants.
Rooms:
As well as a series of double rooms, the Luitpoldpark Hotel has a range of larger accommodation with up to four beds in each. All rooms come with free WiFi, satellite TV and a hairdryer, and some also have a desk. Accommodation is furnished in a warm and welcoming style.
Amenities:
Luitpoldpark Hotel has a large spa offering a range of wellness and beauty treatments, fitness equipment, saunas and other relaxation facilities.
There are three restaurants here too, including a gourmet fine dining eatery as well as LUI's Lounge and the Lautenmacher Stube Bavarian-style restaurant.
> Click here to check prices for Luitpoldpark Hotel
---
Location: On the shores of Forggensee Lake
For those wondering where to stay in Fussen for the best views, Hotel Sommer could provide the answer. This four star property occupies a scenic spot by Forggensee Lake, and has a large spa area plus swimming pools and fitness classes. Guests can also sample Bavarian cuisine in the restaurant.
Rooms:
Every room at Hotel Sommer has its own balcony. Room types range from standard singles and doubles to classic rooms or more spacious suites with large double beds. Typically even the smaller doubles have a desk, small seating area by the doors leading to the balcony and a flatscreen TV, while bigger rooms offer additional seating.
Amenities:
Hotel Sommer is one of the places to stay in Fussen, Germany for those who want to swim and relax in the spa during their holiday. There are indoor and outdoor pools, as well as an extensive spa with steam rooms and saunas. A range of exercise classes and pampering treatments can also be booked.
The restaurant serves a daily breakfast, and in the evenings offers themed buffets and four-course dinners featuring international and Bavarian dishes.
> Click here to check prices for Hotel Sommer
---
Location: Between Fussen Old Town and Forggensee Lake
Located in Oberstdorf between the centre of town and the lake, Hotel Filser is a three star superior rated wellness hotel. This accommodation in Fussen, Germany is perfect for those who want to be based with both central Fussen and Forggensee Lake within easy reach, as both take around 10 minutes to reach on foot.
Rooms:
At Hotel Filser, there is free WiFi in all rooms, as well as private bathrooms and balconies and cable TV. Guests can choose between single, double and family rooms, or opt to stay in the two bedroom apartment. Rooms are decorated in a fresh, modern alpine style, with lots of white linen and warm, natural wood tones.
Amenities:
The hotel hires out bikes, including electric ones, for exploring the Allgäu region. It also serves a range of international and German dishes at the restaurant and has an outdoor garden with terrace.
The Bauernstübchen lounge provides the perfect place to enjoy a drink in the evening, while the buffet breakfast served each morning sets up guests for an active day.
> Click here to check prices for Hotel Filser
---
Location: 6km from Fussen
If you'd like to stay by Lake Weissensee and don't mind being based a little away from central Fussen, the Dreimäderlhaus offers a range of boutique-style accommodation. This appealing, family-run property has a pretty garden with a sun terrace and offers panoramic views over the water and mountains from inside and out.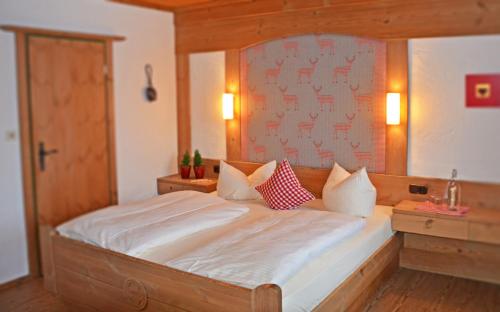 Rooms:
The Dreimäderlhaus has a range of boutique guest rooms to suit singles, couples and families. Some have lake views and may also have a balcony. All non-smoking accommodation comes with a TV, tea and coffee making facilities, free mineral water and a private en-suite bathroom.
Amenities:
Amenities at the Dreimäderlhaus include a sauna, and free towel use is supplied by the hotel. A buffet breakfast is served daily at this intimate property, and guests are free to use the terrace and garden throughout their stay.
There is also free car parking and a private beach area for residents' use.
> Click here to check prices for Dreimaderlhaus Boutique Hotel
---
Location: 6km from Fussen
This delightful hotel is located right by Weissensee Lake in the Weißensee area of Fussen. The property is ideal for those who seek the independence of self-catering, while having access to hotel-style amenities such as a swimming pool and restaurant. If you enjoy being able to cook or dine out as you choose, this could be the best hotel in Fussen, Germany for you.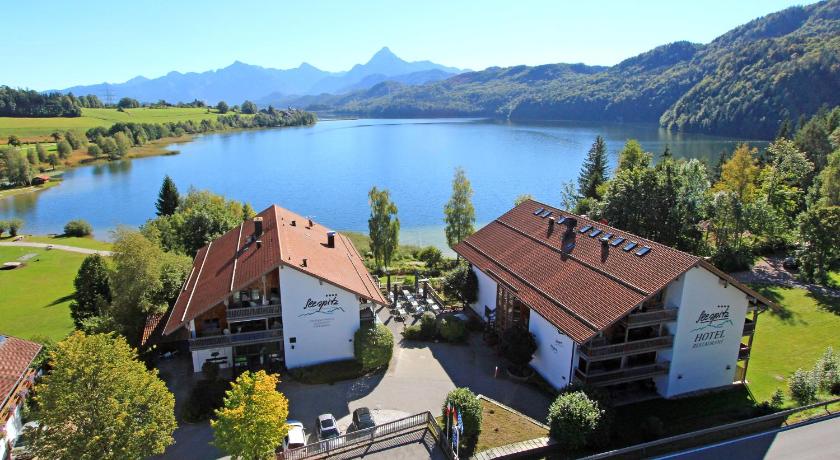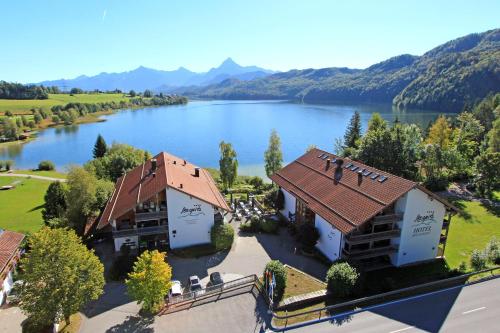 Rooms:
The Apartment-Hotel Seespitz offers one and two bedroom apartments. Each has a large double bed plus a sofa bed or two singles, so they're ideal for families or small groups. Guests can choose between street, lake and mountain view rooms. All apartments have a fully equipped kitchen, furnished lounge and dining areas, free WiFi, TV and CD player. Towels and linen are also supplied.
Amenities:
Guests at the Seespitz hotel in Fussen can enjoy swimming in an indoor pool or lake, and dine on pizzas as well as international or Italian dishes at the on-site restaurant which also serves breakfast daily.
Each apartment also comes with a parking space, and residents can use the laundry and ironing facilities at the property. The Seespitz also has a sauna, indoor pool, games room and gym, and outdoors there is a kids' playground and lakeside terrace.
> Click here to check prices for Apartment-Hotel Seespitz
---
Location: 5km from Fussen
Like the former listing, the Seehotel is one of the top hotels near Fussen for those who appreciate the freedom of self-catering. Overlooking Hopfensee Lake, the property offers a choice between hotel style rooms and apartments with a kitchen. There are fabulous views over Neuschwanstein Castle and the surrounding countryside. The hotel serves breakfast daily, and also has a spa area.
Rooms:
Guests at Seehotel can choose to book either a country style room or an apartment. All rooms come with flatscreen TV and free WiFi, while apartments offer more space with up to two separate bedrooms. Many have views over the lake or gardens, and some apartments can accommodate up to four or five guests.
Amenities:
​​The Seehotel Hartung and Ferienappartements offers facilities comparable to those at other hotels in the Fussen area. These include a spacious spa, complimentary private parking and use of a gym just five minutes' walk away.
There is also a bus stop right outside the property, offering services into central Fussen.
> Click here to check prices for Seehotel Hartung & Apartments
---
Final Thoughts
As you can see, there is no shortage of hotels in Fussen, Germany to choose from. Regardless of whether you are visiting for an overnight stay or you plan on spending a few nights in town, you will find a Fussen hotel to suit your budget.
Enjoy your stay!
---
Ready to book your trip to Fussen? You can find out more about 6 reasons to visit Fussen here, find out how to get from Munich to Fussen here and read about other day trips from Munich here.
You can also find our Bavaria Travel Guide here.