Make your visit to Germany extra special by staying a night or two in one of the many beautiful castle hotels in Germany. Relive your childhood dreams and create your own fairytale at one of the many castles that are hotels throughout the country.
From north to south and east to west, there are some truly incredible former royal residences and fortresses that now welcome overnight guests.
In this guide, you'll find details on some of the most popular castles in Germany that you can stay in.
Whether you're looking for a Rhine castle hotel, a luxurious moated castle, a fortified hilltop castle or your very own Sleeping Beauty castle hotel, Germany offers them all and more.
Read on for all the details.
[This post may contain compensated links. Please see my disclosure policy for more information.]
Summary of German Castle Hotels in this guide
15 of the best German Castle Hotels
Location: Oberwesel, Rhineland-Palatinate
Perched on a hilltop in the beautiful Upper Middle Rhine Valley, Castle Hotel Schoenburg (its German name is Burghotel auf Schönberg), enjoys a magnificent position. When it comes to castle hotels in Germany, Rhine River views don't get much better than this!
Dating back to the 12th century, the Schönberg Castle was destroyed in the late 17th century but was brought back to life two hundred years later by a German-American banker who fell in love with it.
With its multiple towers and turrets, it's easy to see why he was so taken with this fairytale castle in Germany.

Now offering 4-star accommodation for guests, Castle Hotel auf Schonberg's rooms feature a traditional, romantic decor but with all the modern amenities expected today including cable TV, a complimentary minibar and a spacious bathroom. Free WiFi is available in most rooms.
Hotel Schoenburg's dining options are first class. The restaurant serves international cuisine for both lunch and dinner in two dining rooms, and in fine weather, the terrace is a wonderful place to enjoy a meal with superb Rhine views.
Hotel guests have access to a private garden and both guests and non-guests can visit a museum and an observation deck housed in an old gate tower.
> Click here to check prices for Burghotel auf Schonburg
---
Location: Colmberg, Bavaria
With a lovely quiet location on a hill above the medieval town of Colmberg, and less than 20 kilometres from the fairytale town of Rothenburg ob der Tauber, Castle Colmberg is the ideal place to spend a night or two.
Surrounded by formidable ancient walls complete with turreted corner towers, Castle Colmberg (also called Burg Colmberg Hotel), is more than 1000 years old and has been lovingly restored by its current owners.
A range of rooms are available – all have been tastefully furnished with modern amenities whilst retaining a traditional feel. Complimentary breakfast is included in the room rates.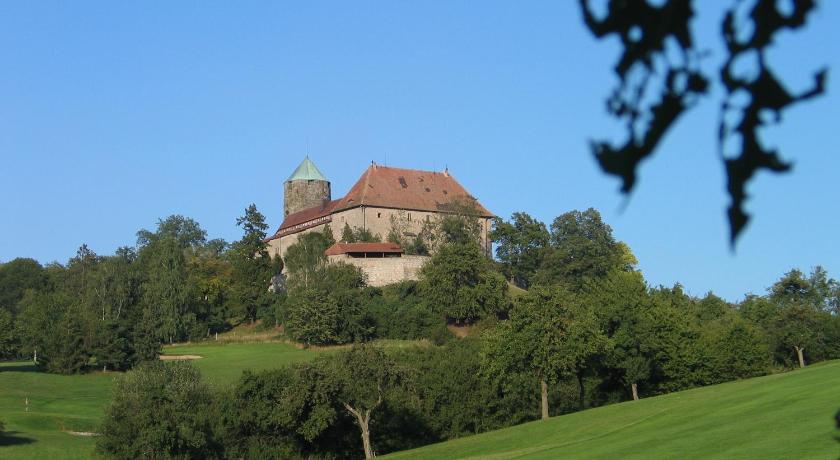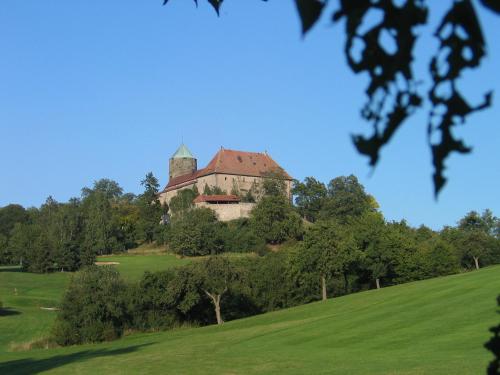 The hotel's restaurant serves traditional Franconian cuisine, with game sourced from the Castle's private game reserve. Meals can be enjoyed in the courtyard in the warmer months.
Guests looking to walk off the delicious meals can stroll the pretty castle gardens or wander into the village of Colmberg.
If you're planning to drive the scenic Castle Road and are looking for a reasonably priced German castle hotel, Colmberg Castle should be your top choice.
> Click here to check prices for Castle Colmberg
---
Location: near Kassel/Bremen, Lower Saxony
This fairytale castle in Germany is synonymous with the Grimm brothers and Rapunzel, and it features a tall tower fit for a princess. Like many German castle hotels, the Burg Trendelburg has faced its fair share of past trauma, having been razed by fire and war over the years.
However, the beautifully restored building is now one of the best German castle hotels around. Suitable for couples and families, guests are treated to stays in stylish rooms with modern bathrooms, and minibars.

There's a nice restaurant, too. Diners can tuck into a traditional German buffet breakfast every morning and savour the regional and international delicacies on offer for lunch and dinner.
Guests are also invited to enjoy the spa area with its sauna and relaxation zone. If you fancy a warm dip, make a point of visiting the thermal baths (Kristall Weserbergland-Therme), just ten minutes away by car.
> Click here to check prices for Hotel Burg Trendelburg
---
Location: Dresden, Saxony
A stylish establishment, Castle Eckberg is one of the finest German hotel castles in Saxony. It sits on the bank of the River Elbe, and the splendid 15-hectare setting, scattered with ancient trees, is almost as impressive as the Tudor-style castle itself.
Merchant Johann Daniel Souchay commissioned Eckberg to be built in the mid-1800s. Over the years, the castle has played host to many notable occupants, including toothpaste inventor Ottomar Heinsius von Mayenburg.

Now not merely a castle, Germany hotel guests can stay in four-star superior accommodation, complete with striking views and antiques. Eckberg is best suited to couples and families looking for a charming escape.
Alternatively, they can opt for a three-star modern annex room (200 metres from the castle). There's also a smart eatery, an on-site gym, a trio of saunas, and a beauty salon.
> Click here to check prices for Schloss Eckberg
---
Location: Gernsbach, Baden-Württemberg
This Schloss hotel in Germany is a majestic stately home and castle known as the Eberstein. Located in the enchanted Black Forest and encircled by vineyards, the dwelling dates back to the late 1200s and was initially built for the Counts of Eberstein.
Today, Schloss Eberstein is a luxury hotel, attracting connoisseurs of food and wine from near and far. The hotel features a Michelin starred restaurant that offers cookery classes as well as exquisite food. Guests can dine on the terrace and take in the stunning vistas over the Black Forest.

Hotel guests are accommodated in the manor house next door to the castle and will enjoy first-class service. Rooms are stylish and modern, featuring a seating area, a safe and a minibar. Luxury rooms have a steam cabin or whirlpool bath, and some even boast a private terrace.
> Click here to check prices for Schloss Eberstein
---
Location: Essen, North Rhine-Westphalia
If you are looking for castles near Dusseldorf, look no further than Schloss Hugenpoet, a moated 5-star castle hotel at Essen.
Initially the property of Charles the Great (Charlemagne), the 17th century castle burnt to the ground in 1478, was rebuilt in 1647, then sadly ravaged again by war.
Fortunately, the building has undergone extensive renovation and is now the height of luxury. Guestrooms are large and airy, showcasing both antique and modern furnishings.

There's free parking and a free shuttle to a neighbouring sauna and gym, while beauty treatments are available to book in-room.
The Schloss Hugenpoet is a real find for sporty types. As well as the gym, guests can enjoy a game or two of tennis on the outside court or go for a bike ride along the River Ruhr.
Guests and non-residents can enjoy a drink at Baronie, a chic bar, and visit one of the two on-site restaurants. HUGENpöttchen offers tasty regional cuisine and views of the grounds, and the Michelin-starred LAURUSHAUS serves gourmet cuisine with a modern twist.
> Click here to check prices at Schlosshotel Hugenpoet
---
Location: Bergisch Gladbach, North Rhine-Westphalia
The Althoff Grandhotel Schloss Bensberg is undoubtedly one of the best castle hotels in Germany. Of all the castle hotels in Germany, this one is most suited to discerning travellers with a penchant for luxury.
A baroque palace in stunning grounds, it's hard to believe Prince-Elector Johann Wilhelm II of Dusseldorf first envisaged the building as a mere hunting lodge.
Now a 5-star hotel, Althoff Grandhotel Schloss Bensberg is renowned for first-class service and sumptuous suites. Guests can expect marble bathrooms and are invited to help themselves to complimentary refreshments from the minibar.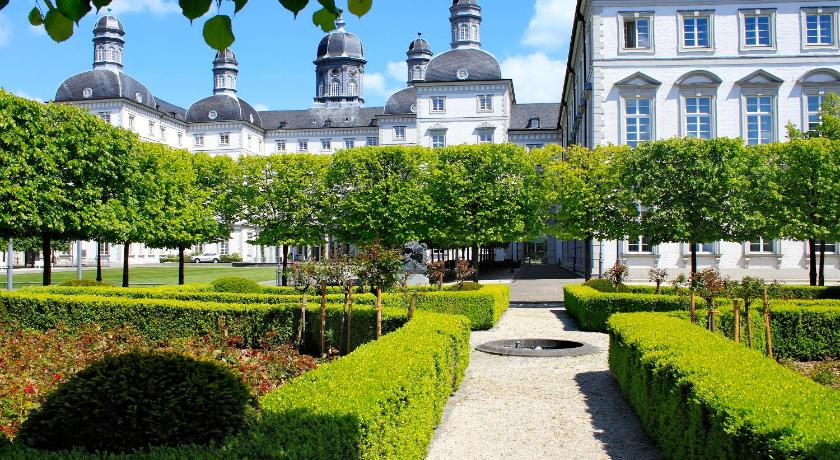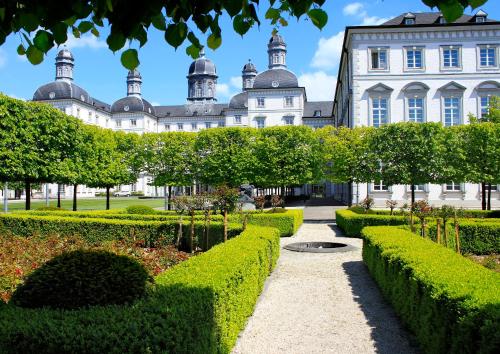 There's a large spa with a pool, gym, hot tub and sauna, and you can pamper yourself with a wide range of beauty treatments.
Foodies will like it here, too; the three Michelin star Restaurant Vendôme delivers delectable German fare, and the Trattoria Enoteca serves up rustic Italian dishes. Guten appetit!
> Click here to check prices at Althoff Grandhotel Schloss Bensberg
---
Location: Kamp-Bornhofen, Rhineland-Palatinate
For a unique castle in Germany to stay at, we suggest you check out 13th century Liebenstein Castle. It's the highest castle in the Middle Rhine Valley and sits next door to Sterrenberg Castle on a UNESCO World Heritage site.
The castles are referred to as "The Hostile Brothers" as warring offspring of a noble apparently built the castles during a feud over an inheritance.
The Castle Hotel Liebenstein sits in an ancient tower and retains its medieval ambience. From the exterior walls to the guest bedrooms, history buffs can't fail to be impressed by this middle-age gem.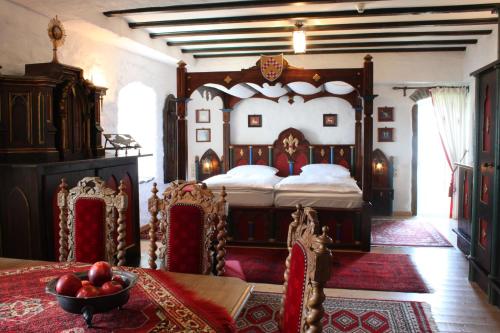 Ghost hunters will love this place, too. It's rumoured the resident ghost 'Baroness of Liebenstein' appears on the stairway in the dead of night.
The restaurant also manages to maintain a medieval style. Take a seat in the Knights Hall and dine on traditional German cuisine – and don't forget to sample the wine – Burg Liebenstein has a vast wine cellar.
> Click here to check prices at Hotel Burg Liebenstein
---
Location: Aerzen/Hameln, Lower Saxony
Located near Hanover in the Weserbergland Schaumburg-Hameln Nature Park, the 5-star Schlosshotel Münchhausen has plenty to offer. Dating back to 1570, the renovated 16th-century palace began life as a small fortress.
Over the years, it has evolved into a larger, more stylish compound and is now considered one of the finest castles to stay in Germany and a lake and an 18-hole golf course grace the grounds.

Inside, the rooms are equally impressive. There's a sense of old meets new, with antique furnishings sitting comfortably alongside satellite TV.
There's also an on-site spa with a steam bath, sauna, and pool. Soak up the experience shower, and if you're feeling brave, try out the ice fountain. This hotel is perfect for nature lovers. Hike or bike in the surrounding woodland then enjoy a hearty meal at one of the two restaurants.
> Click here to check prices for Schlosshotel Munchhausen
---
Location: Kronberg im Taunus, Hesse
Situated near Frankfurt, Schlosshotel Kronberg was built in the late 1800s for a German Empress. Some might go so far as to say it's the best castle in Germany.
Now a 5-star hotel, Kronberg is celebrated for its stylish guest rooms, which are thoughtfully furnished with antiques.
The Schlossrestaurant serves tasty fare. When the weather is fine, diners can take a seat on the terrace for open-air cuisine.

Guests can enjoy a stroll in the gardens, and at weekends, English afternoon tea is served in the library, making it the ideal place for guests looking for a quintessentially charming break.
Golf enthusiasts can make use of the course, and there's free entry to the Königstein Spa (the hotel provides a free shuttle service there and back). If you enjoy a nice walk, the Schlosshotel Kronberg castle, Germany, also has pleasant gardens.
> Click here to check prices for Schlosshotel Kronberg
---
Location: Lieser, Mosel Valley, Rhineland-Palatinate
Built in 1884 by Eduard Puricelli and designed by architect Heinrich Theodor Schmidt, this neo-renaissance castle is certainly striking to look at.
Located in Middle Mosel, Castle Lieser (in German Schloss Lieser) is encircled by vineyards and once functioned as a cellar and press house.
The building is rich in history and makes for one of the most fascinating castle stays in Germany. You can't help but get swept up by the bygone era that seems to linger here.

However, you will find ample modern facilities: there's a bar, restaurant, and garden to enjoy, free parking for guests, and an on-site gym and sauna.
One of the more tranquil castle hotels in Germany, the Schloss Lieser is best suited to those looking to escape the rat-race.
Savour the regional dishes as you quaff a glass of Riesling. Sit on the terrace and look out across the river. Chill out in the spa, or simply relax in the comfort of your room.
> Click here to check prices for Schloss Lieser
---
Location: Harburg, Bavaria
A 1000-year-old castle in Germany, (Bavaria to be precise), Schlosshotel Harburg is perched on the Romantic Road between Füssen and Dinkelsbühl. If you're looking to stay in a castle in Germany near Munich, this is a good option as it's only 90 minutes by car from the Bavarian capital.
Built in the 12th century, Harburg Castle was initially erected above the town to guard trading routes.
History buffs are well-catered for here; staying in a castle allows you to soak up the atmosphere, and you can even take a tour of the castle and find out all about its past.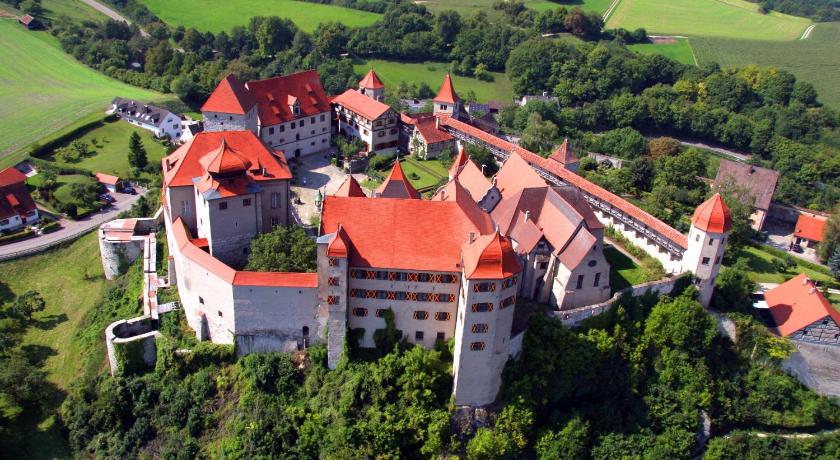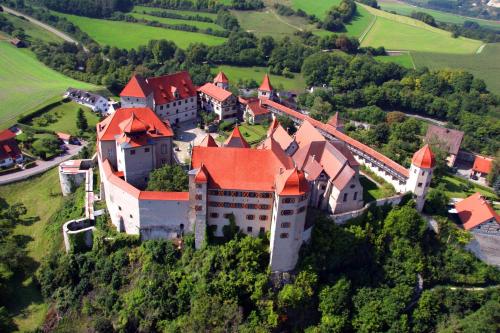 As one of the leading castles you can stay in Germany, the Harburg has well-appointed rooms that feature private bathrooms and flat-screen TV's.
There's an on-site restaurant, and guests can help themselves to an à la carte or continental breakfast each morning.
If you're feeling energetic afterwards, head outside for a walk around the garden or enjoy a game of tennis.
> Click here to check prices for Schlosshotel Harburg
---
Location: Wurzburg, Bavaria
Starting as a fortress and dating back to the 13th century, the Schloss Steinburg has changed significantly over the years and is now celebrated as one of the best castle hotels in Bavaria.
In 1898, Peter Schneider opened Steinburg as a restaurant. From there, it evolved, gaining a reputation as one of the best castles you can stay in throughout Germany.
The building may have changed, but the views have always been impressive. Schlosshotel Steinburg is situated atop a hill overlooking the city of Wurzburg, vineyards, and the River Main.

The luxury hotel is centred on making guests feel welcome, comfortable and pampered. The immediate area is great for those who enjoy outdoor pursuits such as hiking and biking, and the interior is stunning.
As this is one of the premier castles in Germany to stay in, the Steinburg has plenty of facilities. There's a sophisticated restaurant (with yet more splendid views), an open-air beer garden, a garden terrace, and a relaxing wellness area with a pool and sauna.
Rooms are well-designed, featuring an eclectic mix of traditional charm paired with modern amenities. There are flat-screen TV's, seating areas, and private bathrooms complete with complimentary toiletries, slippers, and a bathrobe.
> Click here to check prices for Schlosshotel Steinburg
---
Location: Neckar Valley, Baden-Württemberg
There are many castle hotels in Germany, but not all have views as spectacular as those you get from the Burg Hotel Hornberg. Built in the 11th century, and once a fortress, the Hornberg is now a four-star establishment with stunning vistas from its hill-top position.
Look out across the Neckertal valley, the pretty vineyards, and the lush forest beyond. The rooms are charming, laden with wooden furniture and dressed with soft flowery furnishings. Request a room with a balcony for an amazing view.

Like many of the Germany castle hotels we've featured, the Burg Hornberg has an on-site restaurant. The breakfast buffet is tasty, and the regional and international lunch and dinner fare will go down well. Guests can also enjoy the hiking and biking opportunities nearby.
> Click here to check prices for Burg Hotel Hornberg
---
Location: Ahorntal, Bavaria
Once upon a time, accommodation in castles was reserved for royalty and nobles, and Rabenstein was no exception. King Ludwig I of Bavaria reportedly stayed here, and we're sure he thoroughly enjoyed the view and secluded location.
The Burg Rabenstein castle hotel, Germany sits high above the Ailsbach village. This castle in the country is perfect for those seeking peace and quiet but is also conveniently located in the triangle between Bamberg, Bayreuth and Nuremberg.
It is one of the designated castles on the scenic Castle Road holiday route.

There's a welcoming log fire in the lounge area, and the hotel boasts 22 uniquely designed and spacious bedrooms.
Unlike some of the castle accommodations in Germany, at the Burg Rabenstein, you can join a castle tour. There's even a falconry centre to visit!
Due to its location and layout, the hotel does host a number of business and social events, so check and see what's on before you book.
> Click here to check prices for Burg Rabenstein
---
Map of German Castle Hotels

Final Thoughts
As you can see, the 15 German castles hotels featured above offer plenty of choice. From luxurious 5-star establishments to more traditional, but no less charming, properties, there's something to suit every budget.
Create special memories when you visit Germany by spending a night at one of these special castle hotels.
---
For more Germany travel inspiration, read our Germany travel guide.
PIN FOR LATER