The fairytale town of Rothenburg ob der Tauber on Germany's Romantic Road is a popular destination for day trippers but as one of Bavaria's prettiest towns, it really is worth staying a night or two when you visit.
There is so much to see and do in Rothenburg ob der Tauber that it is a shame to try and cram your sightseeing into just one day. Best of all, if you do stay overnight, you will be able to wander the pretty streets and stroll along the Old Town walls after all the day trippers have left.
When it comes to choosing where to stay, there is no shortage of options and in this guide we cover ten of the most highly rated Rothenburg ob der Tauber hotels to help you choose where to stay in Rothenburg ob der Tauber.
In this article you'll find details of the top 4-star and 3-star hotels in Rothenburg ob der Tauber as well as a couple of properties with self-catering amenities. All are close to the Old Town.
Read on to find the ideal Rothenburg accommodation for your stay in this wonderful Bavarian town.
[This post may contain compensated links. Please see my disclosure policy for more information.]
Summary of Hotels in Rothenburg ob der Tauber
Best Hotels in Rothenburg ob der Tauber
Right opposite the historic Franciscan monastery in the Old Town of Rothenburg is Hotel Herrnschloesschen. Housed in a historic building, the property offers a restaurant, a sauna in the cellar and a Baroque style garden. Guests can book into a range of spacious double rooms and suites.
Rooms:
All rooms and suites at Hotel Herrnschloesschen boast extra large beds, and are comfortably furnished in French style with safe, WiFi, en-suite with bathrobes and flatscreen TV.
The contents of the minibar are included in the room rate and there are views over the historic Herrngasse alley or pretty gardens from each room.
Amenities:
Hotel Herrnschloesschen has a pleasant restaurant, and dining here is highly recommended by many past guests. A sumptuous breakfast is also available and can be enjoyed in the garden in warmer weather.
One of the most appealing features of this Rothenburg hotel is the basement sauna, located in the cellar. The hotel also provides private parking and hire cycles for exploring the area on two wheels.
> Click here to check prices and book your stay
You can read our full review of the Hotel Herrnschloesschen > here.
Hotel Reichs-Küchenmeister is tucked away in the thick of Rothenburg's fascinating Old Town. It has private parking and a spa and wellness centre, plus a restaurant and bar. A selection of modern and classic rooms are divided between the main building and another directly opposite.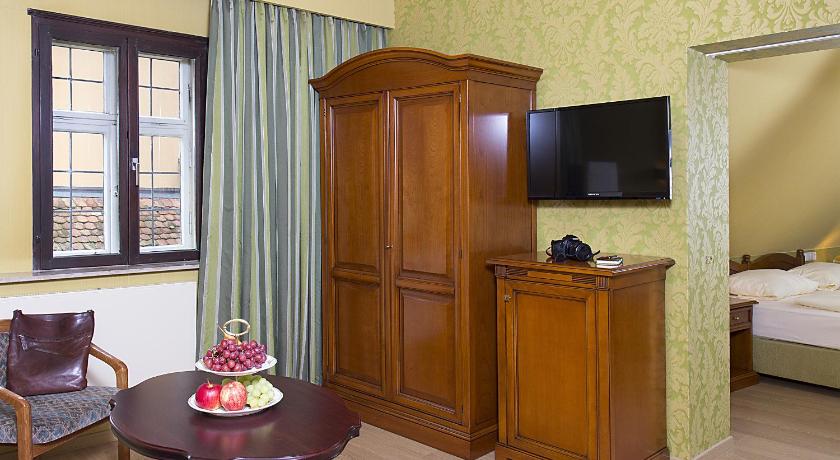 Rooms:
Room types available at Hotel Reichs-Küchenmeister range from standard, deluxe or superior doubles to a junior suite, accommodating single guests, couples or families in each.
Every room is equipped with radio, TV and safe, and they vary in style from traditional to contemporary.
Amenities:
This centrally located property offers on-site parking, a restaurant and bar and free WiFi throughout. The restaurant serves breakfast each day, and it comprises several dining areas as well as an outdoor terrace.
Hotel Reichs-Küchenmeister also has an ATM machine and offers a currency exchange service.
> Click here to check prices and book your stay
---
Historik Hotel Gotisches Haus garni can also be found in the Old Town. The renovated building dates from the 1200s, and is packed with charm and character. Every room has a marble en-suite with a corner bath seating two.
Rooms:
Rooms at Historik Hotel Gotisches Haus garni are enthrallingly intimate, with views over the medieval architecture of Rothenburg's Old Town. They offer marble bathrooms with twin corner bath and are decorated in a traditional style befitting the property's location.
All are doubles, ranging from small or standard rooms to a romantic double or suite.
Amenities:
Historik Hotel Gotisches Haus garni offers parking, welcomes pets and there is free WiFi throughout. A buffet breakfast is provided each day, while later on cake and coffee can be enjoyed in the cosy, comfortable library.
The key attraction of this hotel is its style and character that reflect the location perfectly.
> Click here to check prices and book your stay
---
Burghotel Rothenburg ob der Tauber is located within a character-packed, castle-style 12th century building on the fringe of the medieval Old Town. It offers a range of refined accommodation in rooms and apartments of varying sizes. There is a spa at the property, plus a restaurant, terrace and fragrant rose garden.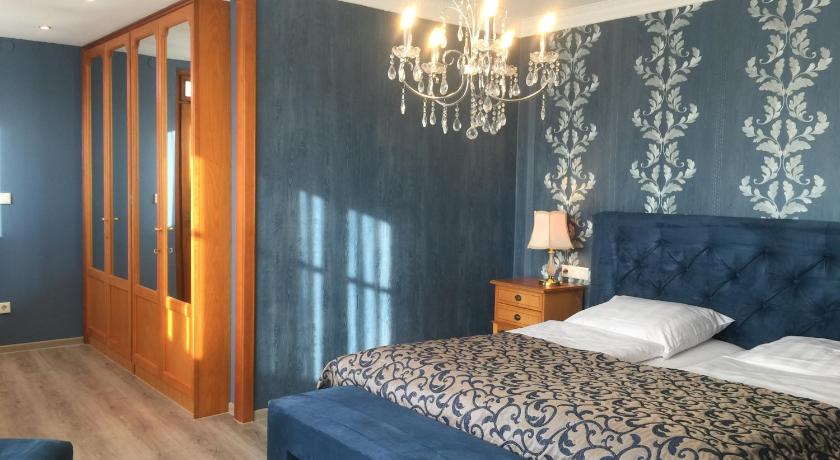 Rooms:
The selection of rooms and apartments at Burghotel is second-to-none, as each can comfortably accommodate between one and nine guests. All are equipped with cable TV, WiFi, seating area and a minibar.
There are several double room types, as well as suites, villas and apartments with up to three bedrooms.
Amenities:
A sumptuous spa is one of Burghotel's key selling points, and it includes spa showers, a sauna and a relaxation zone.
The hotel serves a good buffet breakfast daily and has a restaurant offering a range of lunch and dinner options.
There is a direct route into the Dominican monastery via an archway, and Burg hotel Rothenburg guests can enjoy the secluded outdoor area there for as long as they wish.
> Click here to check prices and book your stay
---
The Romantik Hotel Markusturm is located in a building dating back to 1264, just a two-minute walk from the main marketplace right in the very centre of the Old Town. A pretty, flower-filled outdoor terrace forms part of the restaurant, while rooms feature lots of warm wood and modern furnishings as well as antique pieces.
Rooms:
Every room at the Romantik Hotel Markusturm in Rothenburg ob der Tauber comes with free WiFi, flatscreen cable TV and a seating area. Accommodation ranges in size from doubles with extra large double beds to one-bedroom apartments sleeping three to four.
There is also a deluxe family apartment for six, with a double room and two sofa beds.
Amenities:
A traditional style restaurant is one of the hotel's highlights, and this serves up a selection of regional dishes as well as gourmet specialities. Guests may dine in the courtyard terrace during summer, where home-brewed beer or German wine can be enjoyed.
A rich and varied buffet is offered here for breakfast each morning.
> Click here to check prices and book your stay
---
The historic Altfränkische Weinstube hotel is located in the Old Town, close to the historic Sankt Jakob church. This property successfully combines the traditional and the contemporary, and its restaurant allows guests to sample typical Franconian specialties.
Rooms:
Accommodation options at Altfränkische Weinstube include double and triple rooms with extra large beds, plus a single in those that sleep three. All rooms are en-suite and feature warm wooden beams, panelling and bed frames.
These are brightened up by the use of clean, modern linens in fresh, neutral tones. Free WiFi and cable TV is also provided.
Amenities:
Sampling the food at the Altfränkische Weinstube's restaurant is a must, as it serves up local German cuisine in an authentic atmosphere and setting. There is an outdoor sun terrace for use during summer, and car parking is available close by (for an additional charge).
> Click here to check prices and book your stay
---
Positioned on the northern edge of the Old Town in Rothenburg, right by the Klostergarten Museum, Gästehaus Edelzimmer is a family-run property that has been fully restored throughout. Its interior contrasts the modern against the traditional, with sleek contemporary furnishings set against a backdrop of stone walls and wooden beams.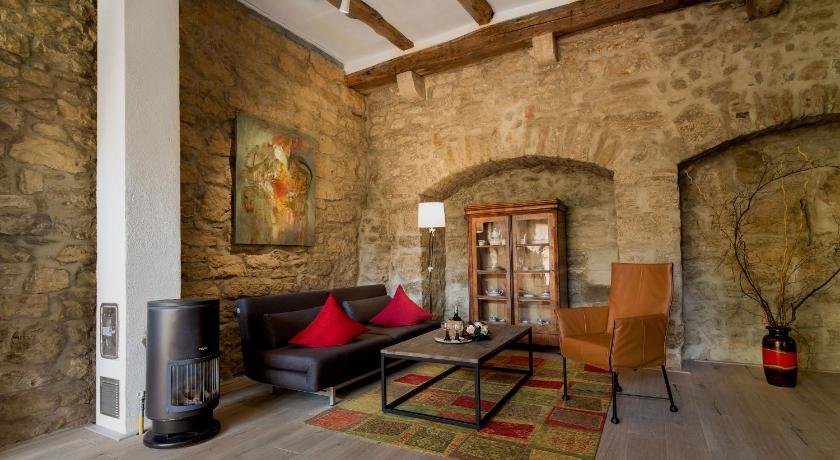 Rooms:
Accommodation at the Gästehaus Edelzimmer comes in the form of suites and apartments rather than rooms. These can sleep up to six, and are thus ideal for families.
Every unit has a kitchenette or larger kitchen, lounge area with TV and a bathroom. One parking space is available for each unit and free WiFi is also provided.
Amenities:
The hotel has a coffee shop on site, and each apartment is well equipped for a self-catering stay, offering amenities like a stovetop, kitchenware, dining table and fridge.
Should guests wish to eat out, a range of cafes, bars and restaurants can be found within five minutes' walk.
> Click here to check prices and book your stay
---
Located in a characterful, half-timbered building from the mid-15th century, Am Hofbrunnen offers accommodation in contemporary style apartments. The property is centrally located in the Old Town, and is close to all attractions as well as a range of local eateries, shops and bars.
Rooms:
The one or two bedroom apartments are spacious and feature separate bedrooms in addition to the main living area. Each has a well-equipped kitchenette, a private bathroom with shower or bath, WiFi connection and cable TV.
Wooden flooring and furniture are found throughout.
Amenities:
Guests staying at Am Hofbrunnen can opt to book a daily breakfast at the nearby Hotel Klosterstüble if they wish.
There is also a comprehensive range of cafes and restaurants within just a few minutes' walk, and all apartments are fully equipped for self-catering, with amenities like a fridge, microwave, stovetop and dining area.
> Click here to check prices and book your stay
---
Located towards the southern end of the Old Town, Gästehaus am Plönlein in Rothenburg also offers a range of apartment-style accommodation. Each separate unit is set up for a self-catering stay, and is ideal for families who want to explore the centre of Rothenburg ob der Tauber as well as the surrounding countryside.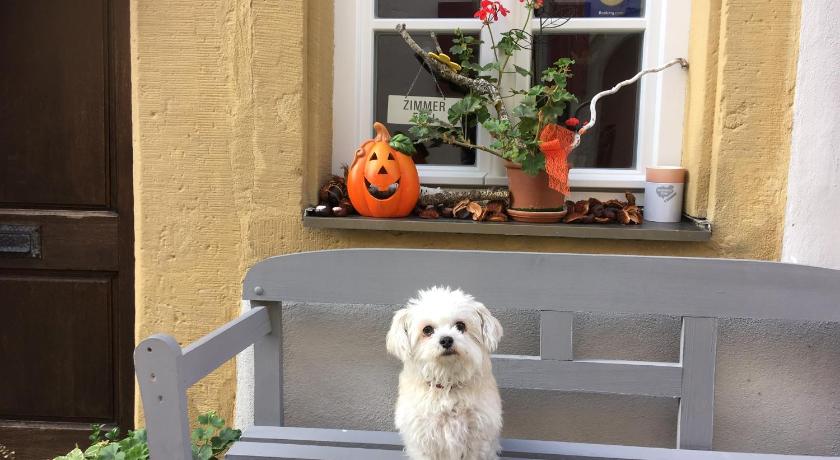 Rooms:
Each stylish unit comes complete with parquet flooring, and has a full-sized kitchen with an oven, coffee maker and hob, plus lounge and dining areas. The private shower room comes complete with a hairdryer. There is also a flatscreen TV and free WiFi.
Apartments have one to two bedrooms, and some have bunk rooms that will suit families perfectly.
Amenities:
As it's centrally positioned, Gästehaus am Plönlein is close to a number of good eating and drinking options, as well as being set up for cooking and dining within each apartment.
While every required amenity is supplied – including pet bowls and board games – it's worth noting that there is no parking at this property however public parking is available close by.
> Click here to check prices and book your stay
---
Despite the name perhaps implying that this property offers food only, Restaurant Alter Keller is a family-owned and typically Bavarian hotel. Located in the heart of the Old Town, it is surrounded by medieval buildings with the town marketplace just 100 metres away.
Rooms:
There are single, double, twin and family rooms available at Restaurant Alter Keller. These are presented in a traditional country style, with wooden furnishings, beamed ceilings and contemporary touches like art canvases and dazzling white linens.
Every en-suite room is equipped with a hairdryer and cable TV.
Amenities:
The Alter Keller restaurant serves a daily breakfast, as well as local and seasonal specialities later in the day. Outdoor dining is possible during summer.
Several languages are spoken at the hotel and WiFi is available in rooms and public areas. Street parking is available close by and is payable locally.
> Click here to check prices and book your stay
---
I hope this guide has helped you to choose the ideal place to stay in Rothenburg ob der Tauber.
Hotel or guesthouse, whatever your choice, staying overnight is highly recommended when you visit and there are plenty of highly rated Rothenburg hotels and guesthouses that are sure to suit your budget.
Enjoy your trip! 😃
Want to know the best way to reach Rothenburg? We cover all the options in our guide to how to get to Rothenburg ob der Tauber from Munich, Frankfurt or Nuremberg. To see all our travel guides to Bavaria, > click here.